With the trade deadline now just a few days away, we will be taking a closer look at the situation for each team over the coming weeks.  Where do they stand, what do they need to do, and what assets do they have to fill those needs?  Next up is a look at the Pittsburgh Penguins.
It's hard to not be amazed by what the Penguins have done this season, given how many key players have missed time with injury. Only Brandon Tanev, Teddy Blueger, Dominik Simon and Marcus Pettersson have played in all 58 games for Pittsburgh, but the team has caught and passed Washington for the division lead. They already made a big move by acquiring Jason Zucker, but don't rule out Jim Rutherford over the next few days.
Record
37-15-6, first in the Metropolitan Division
Deadline Status
Buyer
Deadline Cap Space
$3.499MM in a full-season cap hit, 0/3 used salary cap retention slots, 47/50 contracts per CapFriendly
Upcoming Draft Picks
2020: PIT 3rd, PIT 4th, PIT 5th, PIT 6th
2021: PIT 1st*, PIT 2nd, PIT 3rd, PIT 5th, PIT 7th, ANA 7th
*If the Penguins miss the playoffs in 2019-20, they can send their 2021 first-round pick to the Minnesota Wild instead of this year's.
Trade Chips
After spending a couple of the chambered rounds in the Zucker deal, it may be hard for Rutherford to find enough to really make a big splash on the trade market. The Penguins won't have a first-round pick (again) this year, and they traded their 2020 second way back in 2017 for expansion draft considerations. Some may say who needs draft picks when you can find players like Marcus Pettersson and John Marino for (close to) free, but there aren't a ton of futures left for the team to dangle.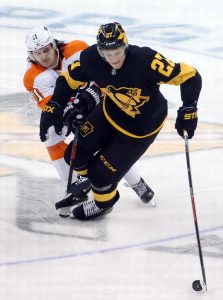 The question then becomes who from the roster would the Penguins be willing to move. Before the season Nick Bjugstad and Bryan Rust were two names frequently bandied about in speculation, but now that the former has missed three months and the latter is the team's leading goal scorer it might be hard to make a deal around one of them. Bjugstad is expected to be back soon, but with just a few days left it would be hard for anyone to take that risk.
Still, the team has some other forwards that could maybe be involved if a deal presented itself. Simon, Blueger and Dominik Kahun are all important parts of the team, but with Sidney Crosby and Evgeni Malkin anchoring two lines you could find replacements. Sam Lafferty is another, though how much value he would really bring isn't clear.
On defense, Marino's injury really makes it difficult to trade someone like Juuso Riikola, if they even considered it in the past. The Penguins defense group is likely set, unless Rutherford adds another veteran name before what is expected to be a long playoff run.
That leaves goaltending, where many have pointed to Casey DeSmith sitting in the minor leagues as one of the Penguins' biggest trade chips. Not so fast says Rutherford, who recently explained he doesn't plan on moving one of his goaltenders at the deadline.
Five Players To Watch For: F Sam Lafferty, F Dominik Simon, D Juuso Riikola, F Dominik Kahun, F Nick Bjugstad
Team Needs
1) Bottom-Six Flexibility: Rutherford is never shy about speaking his mind, and he did just that to Josh Yohe of The Athletic (subscription required). He plans on adding a bottom-six player that can move around a bit, as long as the prices come down over the weekend. Who that player is exactly remains to be seen, but you can bet there will be a new face flying around the ice next week.
2) Depth Defense: The only way this happens is if the Penguins get bad news on Brian Dumoulin or Marino, but you can never have enough options on the back end. Rutherford knows first hand how many defensemen you need for a Stanley Cup playoff run after being forced to use Trevor Daley and Ron Hainsey as top options in 2017.
Photo courtesy of USA Today Sports Images.