We've now made it past the holiday season but there is still plenty to be thankful for. Like the last few years, PHR will take a look at what teams are thankful for but this year comes with a bit of a change. Normally teams would have an idea of where their season was heading, coming up on the one-quarter mark with mountains of statistics to analyze. Instead, in this unprecedented year, things are just getting underway. We'll still take a look at what each group is excited about and what they could hope for with the calendar having now flipped to 2021.
What are the Penguins most thankful for?
Their dynamic duo down the middle.
Yes, Sidney Crosby and Evgeni Malkin aren't in the primes of their careers anymore but they still form one of the more formidable one-two punches at center.  Both are sure-fire future Hall of Famers and in Crosby's case, he still has five years left on a contract that has wound up being a team-friendly one.  Malkin's deal is up after next season but it's safe to say there will be interest in keeping him in the fold.  Both players are off to a bit of a quieter start than usual this year but while there are some valid question marks surrounding other elements of the team, Pittsburgh fans should be quite confident in believing that those two will be able to produce more in the near future.
Who are the Penguins most thankful for?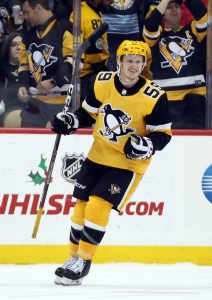 It would be easy to pick Crosby – too easy perhaps – so let's go with Jake Guentzel instead.  When he signed his five-year, $30MM contract, it was a deal that carried some risk given that he had only been a full-time NHL player for one season.  However, he has produced just under a point per game since the day the contract was signed.  In this environment, a $6MM price tag for a point per game front-line player is a bargain.  Pittsburgh's veteran core has turned over considerably in recent years and there will likely still be some changes to come but Guentzel should be around through that and then some with three years left on a below-market contract still to go.
What would the Penguins be even more thankful for?
A return to form from Tristan Jarry.
After being on the trade block at the start of last season, Jarry got off to a great start, earning an All-Star Game nod and outperformed Matt Murray.  With their cap situation, they were only going to be able to afford to keep one of the two and opted for the cheaper one in Jarry, a decision that was certainly the expected outcome but one that carried risk given his inexperience.  They're currently seeing the downside of that right now as the 25-year-old has struggled considerably in his first six starts this season.  That cap situation also limited them to having Casey DeSmith as the backup, someone who is relatively unproven.  They need Jarry to turn his performance around if they want to be battling for top spot in the East.
What should be on the Penguins' wish list?
Before their rash of injuries, they could have benefitted from some defensive upgrades.  Now, with multiple injuries, they really need some defensive upgrades and more depth on top of it as they've had to go ten-deep on the back end already.  Can they really afford an impact upgrade?  Not really and the fact they've had to dip into LTIR already is eating into the limited cap room they do have.  Low-priced depth additions like Yannick Weber's recent signing is more of what they're going to be able to do so interim GM Patrik Allvin is going to be working the phones if he hasn't been already since taking over for Jim Rutherford to try to get something done on that front sooner than later.
Photo courtesy of USA Today Sports Images.