Don't expect a Minkah Fitzpatrick extension anytime soon. A source told ESPN's Jeremy Fowler that the Steelers "won't be rushed into a deal."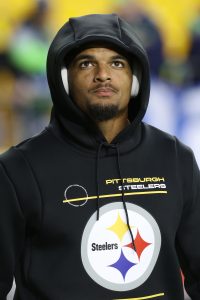 This could ultimately be the difference of a few months, as Fowler estimates that Pittsburgh could start negotiations with their star safety in July. However, if Pittsburgh still follows soon-to-be-retired GM Kevin Colbert's philosophy of not negotiating in-season, that would give the organization a limited amount of time to discuss a deal. After having his fifth-year option picked up, Fitzpatrick has one year remaining on his contract.
As Fowler notes, the Steelers have been willing to extend their former first-round picks, with T.J. Watt, Cameron Heyward, and David DeCastro all getting new deals before the start of their fifth-year option season. Watt's extension also set a new precedent, as the Steelers were willing to offer guarantees beyond the signing bonus, something the organization used to shy away from. A new GM could change any front office philosophy, but the organization's apparent preference for internal candidates (and their continued reliance on Colbert) indicates they want to keep things running as normal.
Fowler estimates that Fitzpatrick will be aiming for a contract in the range of Jamal Adams' deal, which reset the market at the position at $17.5MM. The 25-year-old could certainly justify a top salary, as he's established himself as one of the league's top safeties since joining the Steelers in 2019. Fitzpatrick earned first-team All-Pro nods in both 2019 and 2020, and while he didn't earn any accolades in 2021, he still finished with a career-high 124 tackles to go along with seven passes defended and two interceptions.