Some high-profile names emerged during the Steelers' search for their next wide receivers coach. The franchise interviewed multiple other candidates but tabbed Ike Hilliard for the position Tuesday.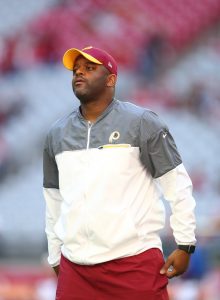 The longtime NFL wideout spent the past six seasons as the Redskins' receivers coach. He beat out ex-Steelers wideout Jerricho Cotchery and South Carolina receivers coach Bryan McClendon for the post. Those were the known candidates for the position. Darryl Drake's tragic death last summer prompted the Steelers to use an interim coach in this role last season, and Hilliard will succeed Ray Sherman in leading Pittsburgh's wideouts.
Like Cotchery, Hilliard played 12 NFL seasons. The 1997 top-10 pick worked as a starter for the Giants for most of his career, before finishing with four Buccaneers seasons. Hilliard's first season in Tampa Bay, 2005, doubled as Mike Tomlin's last of five seasons on the Bucs' staff. In his coaching career, the Hilliard worked with the Dolphins, Bills and Redskins (two stints) after beginning his run in the short-lived United Football League.
The Redskins saw four receivers eclipse 800 receiving yards during Hilliard's tenure, with rookie Terry McLaurin being the most recent. McLaurin, who missed two games, posted 919 yards and came within seven yards of breaking Gary Clark's 34-year-old Redskins rookie record. In Pittsburgh, Hilliard will have young players like James Washington and Diontae Johnson to further develop.
Photo courtesy of USA Today Sports Images.