After going into the 2020 season without Jordan Berry as their punter, the Steelers restored their usual order at the position by adding the veteran around the midseeason point. The team is bringing Berry back for another season.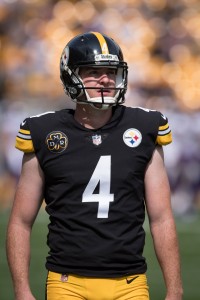 Berry re-signed with the Steelers on Monday. It's a one-year deal. Should the veteran specialist make Pittsburgh's 53-man roster, it will be his seventh season with the team.
The Steelers previously extended Berry to keep him in 2018 and, a year later, gave him a two-year contract that ran through 2020. However, the team cut its incumbent punter and went with longtime Chief Dustin Colquitt going into last season. The Steelers backtracked on Colquitt after five games and brought back Berry, who punted in the team's final 11 contests and its wild-card game.
Berry, who turned 30 earlier this month, averaged a career-best 45.8 yards per punt last season. While he was not with the Steelers for the first five games last season, the former UDFA has never missed a game when under contract.
Photo courtesy of USA Today Sports Images.