The Steelers offense has struggled mightily through the first two weeks of the 2023 season, leading fans at Acrisure Stadium to call for offensive coordinator Matt Canada's firing during Monday's eventual win over the Browns. Steelers head coach Mike Tomlin acknowledged the offense's struggles and admitted to hearing the fans' "Fire Canada" chant, but he told reporters that he doesn't envision making a change to his staff.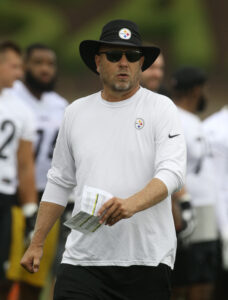 "We aren't going to have knee-jerk reactions in terms of making wholesale changes to change that outcome, but we do acknowledge two is a pattern," Tomlin said (via Mark Kaboly of The Athletic). "We've had two outings that are not up to snuff in that regard, so it has our attention."
Through eight quarters, the Steelers offense has found the end zone as many times as the defense (twice). As Kaboly notes, the unit has had 12 three-and-outs on 25 drives, and the offense didn't have one snap in the red zone during their win over Cleveland.
Naturally, the offense's lack of success will be a reflection on Canada. Still, as Kaboly points out, it'd be unlike the organization to make a major coaching move during the season; the last time the Steelers made such a move was when Bill Cowher removed Ray Sherman's play-calling duties during the 1998 campaign. Gerry Dulac of the Pittsburgh Post-Gazette echoes that sentiment, writing that it'd take "a lot" for Canada to get fired before the season ends.
You can't blame the Pittsburgh faithful for being frustrated. Since getting promoted from quarterbacks coach to offensive coordinator in 2021, Canada hasn't been able to guide the Steelers to even an above-average operation. The team dropped from 22nd in points score in 2021 to 24th in 2022, and while they jumped from 25th to 19th in total yards, the passing offense took a major step back.
Tomlin has continued to bring back Canada despite the underwhelming results, and the team retained him for 2023 with the idea that he'd offer some continuity to Kenny Pickett and the young offense. The Steelers coach hasn't changed his tune, but he did admit that his staff has to do a better job of preparing the offense.
"It starts with coaching," Tomlin said. "We have to coach better. We have to get these guys playing faster with more fluidity and surer. We have to play more coordinated, especially early in games. We have to anticipate the schematics of those we play against a little bit better. Displaying anticipation is a component of preparedness. We have to put them in really good circumstances, we have to recognize those circumstances and perform."