On this date in 2017, Le'Veon Bell's first holdout officially came to an end. On September 4, 2017, the star running back inked his franchise tender with the Steelers.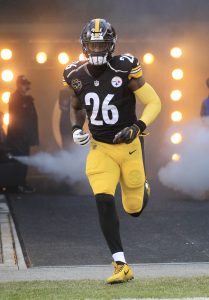 By the start of the 2017 regular season, Bell had already established himself as one of the best running backs in football. The former second-round pick had exceeded 1,000 yards from scrimmage in three of his first four seasons, and he collected 31 touchdowns through his first four campaigns. Thanks to that production, Bell wanted to be paid like one of the top running backs in the NFL, and the Steelers were certainly willing to oblige…on their terms. The team seemed to be operating on a year-by-year approach before committing big money to Bell. It was hard to blame the organization; the running back missed three games as a rookie, 10 games in 2015, and another four games in 2016. The team clearly wanted Bell to prove he could stay healthy.
Ultimately, Bell stayed home during training camp and the 2017 preseason after the two sides couldn't reach agreement on an extension before the deadline. Bell's decision to hold out was mostly a sign of defiance, but it didn't sound like there was any tension between the two sides. It was reported throughout the offseason that Bell would show up for Week 1, and he did just that. That led to the September 4th transaction, when Bell inked his franchise tender. The move locked him into a one-year, $12.12MM deal.
Bell had another standout season in 2017, and he managed to appear in 15 games. He earned first-team All-Pro honors after finishing the season with 1,946 yards from scrimmage and 11 touchdowns on a league-leading 406 carries. He also had a pair of touchdowns in the Steelers' playoff loss to the Jaguars.
Instead of inking Bell to a long-term deal, the Steelers decided to play hard ball again in 2018. The team utilized the franchise tag for a second-straight season, meaning Bell would earn $14.5MM that year. Predictably, the running back held out again, but he'd never return to the team. He didn't report to the team prior to the deadline to ink his franchise tender, making him ineligible to play in 2018. The Steelers didn't use the franchise tag in 2019, which finally made Bell a free agent.
The running back ended up getting a four-year, $52.5MM deal from the Jets, and he was somewhat productive during his first season in New York, finishing with 1,250 yards from scrimmage. He dealt with injuries in 2020 and hinted that he wanted a trade, leading to his outright release. He caught on with the Chiefs for the stretch run, and he finished with 353 yards from scrimmage in his nine games with Kansas City. He only saw time in one of the Chiefs' three playoff games. The 29-year-old remains unsigned for the 2021 season.
It's hard not to wonder how Bell's career would currently look had he not sat out that 2018 campaign. His 2017 holdout was a precursor of things to come, and despite the fact that he signed his tag (on this date in 2017), the whole event certainly played a role in his future negotiations with the Steelers.
Photo courtesy of USA Today Sports Images.